HOW TO (Really) TASTE CHOCOLATE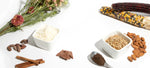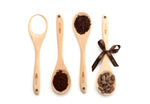 SO WHAT IS CHOCOLATE?
Chocolate is a food preparation in the form of a paste or solid block made from roasted and ground cocao seeds, typically sweetened.
Dark chocolate is made up of 3 major components: 
Component 1- Cocoa Beans
The cocoa bean is essentially the seed of the fruit (the pod) of the Theobroma Cocoa Tree.  It grows primarily in regions 10 degrees north and south of the equator.  The bean is made up of approximately 50% cocoa butter (fat) and 50% cocoa solids (think cocoa powder).
**Cocoa beans at this stage are called cocoa nibs; they are very bold in flavour and the end note will most resemble the flavour of chocolate as you know it. If you are interested in trying cocoa nibs we do carry them in-store and online.
Component 2- Cocoa Butter
Cocoa butter is made from the fattiest part of the cacao bean.  It has a very mild flavour, and a very light colour.  Cocoa butter is responsible for the 'mouthfeel' in chocolate, making it smooth and silky.
Little Note** Cocoa butter is very valuable, as it is used in cosmetic and pharmaceutical products. One of the differentiating factors between fine chocolate and confectionery is that fine chocolate has all the cocoa butter intact, whereas you will find that the cocoa butter has been replaced by hydrogenated fat in confectionery.
Component 3- Sugar
Many types of sugar are used, and this is what makes making chocolate from the bean so much fun.  The options are varied, but at JACEK we choose to use Roger's beet sugar in our Fabric Collection as it is Alberta based.  Also, they do not use bonechar to refine the sugar, satisfying the requirement of our vegan customers.
Little Note** Most dark chocolate that you will find contains soy lecithin, which is an emulsifier. As the Fabric Collection is made in-house at JACEK, we have the ability to omit the soy lecithin which makes for a very 'clean' chocolate.
SHOP COCOA NIBS
HOW CHOCOLATE IS MADE?
Here is a short video on the process from the cocoa bean to a JACEK chocolate bar.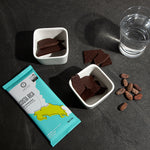 HOW TO PREPARE FOR YOUR CHOCOLATE TASTING
1. Have a glass of water (room temperature) for anyone trying the chocolate
2. Have unsalted crackers available
3. Cut each bar up into little bite sized squares (approx. 4cm x 4cm) and place each flavour in a separate bowl. Ensure that the chocolate is at room temperature (ideally between 19-21 degrees)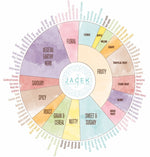 HOW TO TASTE CHOCOLATE
Smell- Close your eyes and take in the aroma of the chocolate.
Snap- Take a small bite of chocolate, and you should hear a crisp and satisfying 'snap' which is a sign of healthy chocolate, with the cocoa butter in the correct crystal structure.
Savour- Start to chew slowly, letting the chocolate melt and coat your mouth.  What are you tasting? What is the mouthfeel of the chocolate (velvety, smooth, grainy?)
Take your time and to understand the chocolates head (first flavour), body (middle flavour), and tail (lingering flavours).  **Note that everyone's palates and tasting experiences are different, so there are no right or wrongs.
 As a tool for identifying flavours, we have included a Tasting Wheel here.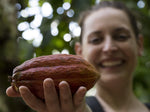 Are you ready to Smell, Snap and Savour? Remember that you are welcome to refer to the Tasting wheel above to help you identify flavours.
Now let's start tasting some chocolate!
Tasting chocolate is all about each person's individual experience, so take your time to discuss what you are tasting, the texture, and the interesting nuances that you experience with each origin. The tasting notes that have been included in this guide are crowd sourced. As you enjoy each selection here is some background information on each.
DOMINICAN REPUBLIC 70%
Nestled in the heart of the cacao rich Duarte province in the Dominican Republic, Oko Caribe is a gem amongst cacao suppliers. With more than 50 years of combined experience in cacao, owners Adriano de Jesus Rodriguez and Gualberto Acebey Torrejon have fine-tuned their systems to ensure consistent, superior quality in their 450 tons of annual production.
Oko Caribe maintains close relationships with its 181 farmers through technical training, in agronomic practices and organic certification.  In addition, owner Adriano and Gualberto have personal relationships with all farmers, offering microfinance loans for cacao-related expenses, as well as personal loans for family emergencies or other community needs.  The loyalty between Oko Caribe and the farmers they work with is not only evident in daily interactions between staff, management, and farmers, but also in their best-in-class, award winning final product.
FLAVOUR NOTES: PORT WINE, DRIED FIG, DRIED RAISIN.
COSTA RICA 70%
Founded in 2011 by Juan Pablo Buchert in San Jose, Costa Rica, Nahua is passionate about fine cocao, respect, sustainability, and collaboration.  The premium single origin cacao beans hail from the Upala region in the northern part of Costa Rica, and their focus is to support smallholding farmers through technical training and social development programs as part of Nahua's Cacao Renovation Program.
As Costa Rica's leading producer of fine-flavored and responsibly sourced cacao beans, they only produce top quality Trinitario cacao purchased fresh and directly from their select farmer network.  Their onsite post-harvest facility ensures beans are fermented and dried resulting in a fine flavor profile.
FLAVOR NOTES- SMOKEY, HONEY, VANILLA, ALOE
COLOMBIA 70%
On the southern pacific coat of Colombia, Tumaco is a region that has been hard hit by historic political conflict and plagued by narco trafficking. The predominantly Afro-Colombian population has faced a great deal of prejudice and sustainable local development has been hijacked by extensive penetration of paramilitary and narco groups.
When Cacao de Colombia first explored the region back in 2011, they found cacao everywhere; drying on any flat surface farmers could find, including the road. The sheer volume of cacao was overwhelming, and the opportunity for quality and systemic improvement was obvious. Cacao de Colombia has worked with three community cooperatives to introduce centralized processing and drying. Because of the introduction of centralized processing and Cacao de Colombia's expertise in high-quality flavour development, farmers today earn 70% more income from cacao than they did when selling dried beans to the commodity market supply chain and have a true sustainable alternative to coca production or involvement in the narco groups.
FLAVOR NOTES: WHISKEY, MOLASSES, LICORICE, TOBACCO
DOMINICAN REPUBLIC 90%
The cocoa used in this chocolate is the same as the Dominican Republic 70% except it has 10% sugar versus 30% sugar. The intention here is to demonstrate how sugar not only changes the sweetness of the bar, but also some of the flavour notes. Can you tell a difference in notes? or just a 'stronger' taste?
PERU 70%
Peru is the country with the richest chocolate history. And Peruvian chocolate has been named the world's best many times. 60% of the world's cocoa varieties are indigenous to the Amazon basin area, and Peru is home to over 50% of those varieties. Peru is also the second-largest organic cacao exporter in the world.
FLAVOUR NOTES: FLORAL, VANILLA, TROPICAL FRUITS
THE WHISKY BAR
We always like to finish the tasting of chocolate flavours with something unique and a little boozy. The Whisky Bar is a unique chocolate that JACEK developed using the simple yet delicious technique of soaking the Colombian Tumaco cocoa beans in Whisky before refining the beans into chocolate. As always, chocolate should be mindfully tasted, but this bar is a great example of the changes in flavour as you taste it (head, body, tail). Do you taste the whisky as soon as the chocolate hits your tongue, or does it take some time to develop?
Commonly Asked Question:
What does the percentage that is often on chocolate packaging mean?
This is the amount of cocoa bean in the bar (includes cocoa solids and cocoa butter). The remaining percent is sugar in dark chocolate. For example, a 70% dark chocolate is 70% cocoa bean and 30% sugar.
Note that this only gives you an indication of sweetness, it by no means gives any indication of quality.