Crestwood Location
We're thrilled to announce our latest milestone – the grand opening of our largest store to date, right here in Crestwood Centre. This expansion marks an exciting chapter in our journey, allowing us to spread more joy.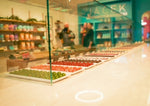 Store Hours
 Monday to Friday 10am-6pm   
Saturdays 10am-5pm 
Sundays 12pm-5pm
Please note**we will no longer be open Sundays as of Jan 2024 
2023/24 Holiday Hours:
Dec 21-22: 10am-7pm
Dec 24: To Be Announced
Dec 25-27: Closed
Dec 28-29:  10am-6pm 
Dec 30: 10am-5pm
Dec 31- Jan 1- Closed
This location currently does not offer in-store pick-up services. We apologize for any inconvenience this may cause. We are committed to providing you with the best possible shopping experience, so please come and visit the JACEK team in-store today.
Crestwood Location and Map
Visit us today at 9674 142 St or contact us at 825.480.7791
Holiday Collection
At JACEK Chocolate we believe in keeping things fresh and exciting. Just like the changing seasons, we constantly reinvent ourselves. That's why each season, we unveil a brand new collection that reflects the latest trends and our commitment to innovation. From bold designs to exquisite flavors, our seasonal creations are a true testament to our dedication to both fashion and chocolate.